Update: since Microsoft implemented a new Modern Term Store Management user experience, this article is not relevant anymore…
A site owner can easily create a one site-level term group from a modern UI: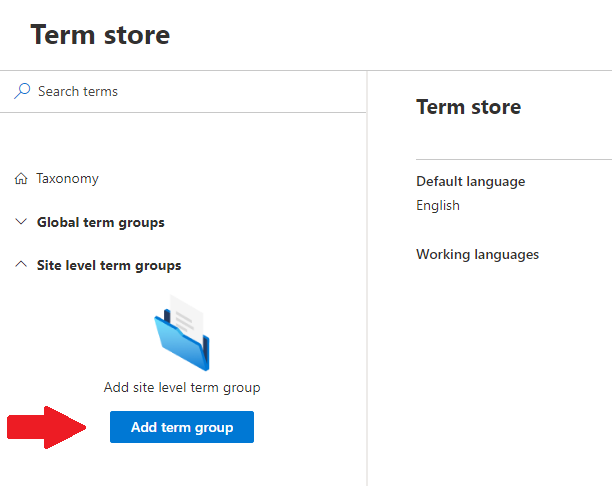 Original article:
no Term Sets/Groups available in SPO
Scenario: You have a new SharePoint Online or Teams site. You want to create a term Set under Site Settings -> Term Store Management.
Issue: You cannot. There is no term stores available for editing (all grayed out) and you cannot create a new term group.
Solution
Quick answer:
Create a new list or site column with "Managed Metadata" type, select "Customize your term set".
That's it. A new editable local (site collection level) term group is created.
More detailed explanation
Go to Site Settings -> Site Columns, then "Create":

or any List or Library, select "+ Add column", then "More"

You should be in the "Create Column" page.
Select "Managed Metadata" under "Name and Type"/"The type of information in this column is:" :
Then scroll down to "Term Set Settings" and select "Customize your term set:"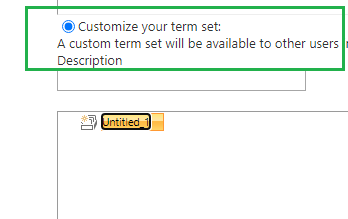 Now use "Cancel" button. You no need to save the column we started creating.
Done. A new local (site collection level) term group is created and you can manage it
(from Site Settings -> Site Administration -> Term store management):
By the way, you can share your local (site collection level) term group with other sites – just use "Site Collection Access":
Enter the root URLs of site collections that will have read only access to the contents of term sets in this group. These sites will be able to bind and pin terms from term sets in this group to their own term sets. Enter each Site Collection on a separate line